Character Template
Persona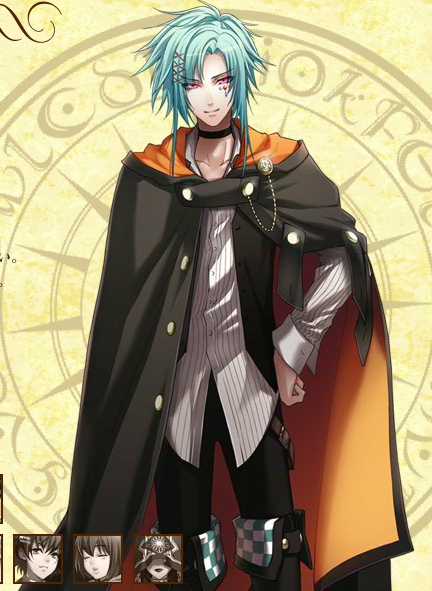 Name:
Akua Pura
Alias:
Demigod of Water, Son of Aquanis
Gender:
Male
Age:
16 [What he says] 216 [True age]
Birthdate:
24//08
Sexuality:
Straight
Special Characteristics:
N/A
Personality:
Akua has two distinct personalities, the same two that his mother has for he sort of inherited them during his time with his mother. Like his mother, Akua's personality differs depending on his mood. If he is in a good mood, he is generally kind and loving, but can also be rather stubborn. If he has his mind set on something, it is usually difficult to sway him. He is also very sensitive to insults, even if they are jokes, and can also be very childish when the need arises. The Gods and Goddesses sometimes fear that he will become like his mother, which could spell doom for the mortal world. Akua usually acts as though he is stupid but it is so that people will tell him secrets that he could use if he ever fights them. He is very manipulative, using every move to his own advantage, and can sometimes change the tide of battle with a single word, as long as he has learned everything about his opponent. Even though he says he hates planners, he has a knack for finding out as much as he can about his opponent before confronting them, one of the only things that are Akua, and not part of his mother.
When Akua gets mad, it is like when his mother has entered her dragon form which mean that someone has wronged, or even slightly upset him. Like Aquanis, he becomes evil in this state, using any power he can to crush the one who wronged him or his mistress. The other Gods, except for the Lightning God(dess) of course, are afraid of Aquanis when she becomes the dragon and so, when Akua shows this side of his self, they get really worried. One thing he has in this state that his mother lacks, is that he is very smart, not just angry. This makes him even more dangerous because he can do anything and is therefore unpredictable in this form.
Likes:

Water - Being his natural element, Akua loves water. Whether it's the feel of it, the power of it, or the fact that it can be so very different at any given points, he does not know. He also prays to his mistress using water and keeps a flask of water with him at all times to battle and pray.

His Religion - Being a devout follower of his Goddess, Aquanis, Akua loves his religion and is usually caught trying to convert potential followers. If he sees someone that could be a follower, he becomes kind and loving so that they can befriend him.

Risk Takers - Being one himself, Akua loves people that, instead of planning out every step just to have it fail, just run into the battle and think up a plan as they go along. Akua has never been a great planner himself so he likes to be around people who feel the same way. Unless a planner has another quality Akua finds amazing, he usually stays away from them and makes his own plans.

Mortal Realm - Since the world has changed in the past 200 years, Akua is fascinated by the changes, from clothing to technology to magic, anything and everything is amazing in Akua's eyes. He can get easily distracted when talking to someone because something, be it animate or inanimate, catches his eye.

His Uniqueness - Akua had different clothing when he journeyed to the mortal realm but he changed them to fit the fashion of the world. Even so, he loves the way people react when they hear his accent. Being from a time 200 years ago, Akua speaks using thee's and thou's when he speaks. This can lead to people not understanding his words but he can't help it. It is the way he speaks.


Dislikes:

Lightning - Being the only element water is weak against, Akua hates Lightning. Lightning mages annoy him and he always tries to find a reason to fight them. It usually means his loss but he does not care. If he is to become the strongest mage in existence, Akua needs to find a way to counter Lightning mages. This is why he fights them, to learn their weakness.

Fire - Being the opposite of water, Akua does not like Fire. He likes it more than lightning, which he greatly despises, but Fire is still bad. If he is burned, he gets very mad and usually enters his evil personality. Every fire he comes across, Akua usually puts out because of the pain fire can bring.

Non Believers - If people have a religion of their own, Akua does not mind them, but if people do not believe in anything or say outright that Aquanis does not exist, Akua kills them. If they have no belief in the world, then they might as well not exist in the world. Every person must believe in someone stronger than them. For Akua, that person is Aquanis, the one who saved him.

Planners - Since Akua cannot create his own plan even if he tried, he does not greatly like people who are good planners. He will eventually become friends with one, this much he knows, but he hopes that it will be someone who Akua likes for something else, some other amazing quality that Akua greatly needs, like Earth magic, the magic that beats Lightning but is weak to Water.

His Knowledge of the World - Akua spent the last 200 years in heaven so he does not pride himself upon his knowledge of the world. He knows more or less nothing about the world he lives in today and, although Aquanis sometimes helps him, she is also at a loss. One thing Akua will need is someone who understands his dialect and someone that knows much about the world to compensate for Akua's lack of knowledge.


Motivations:
To win Aquanis's favor - Akua wishes to please his mistress, the wonderful water Goddess Aquanis. Since she taught him, she is the closest thing to a mother Akua has ever had. He does not know how to do it but, since she taught him her powers, he figures that becoming the strongest mage in existence will please her.
Destruction of Lightning Magic Users - Since Akua wishes to become the strongest mage in existence, he needs to be able to defeat Lightning mages easily. This is another thing he wishes to do, he wishes to get much stronger and so this is the way he plans on doing it.
Destruction of the Lightning God Slayer - Akua wishes to defeat the Lightning God Slayer because the Lightning God boasted about him. Akua wishes to know how strong the power of Lightning can be which will require him to fight, and defeat, the God Slayer of the Lightning element. Getting the piece of information that a Lightning God slayer existed almost destroyed the mortal realm. Akua wishes to use that information to its highest potential. He will find the God Slayer, and he will defeat him.
Fears:
Being Killed - Like most humans, Akua fears the destruction of his body. Unlike most humans though, Akua fears death, not because of what lays afterwards, but because of what he may not have accomplished during his life. Once his body decays he will go towards Aqua's realm in the Water portion of what mortals call heaven but only if he truly has gained her favor. This is what he fears: death before he can gain her favor.
Being Defeated by the Lightning God Slayer - Akua's main fear is being killed, but he will kill himself if he is defeated by a Lightning user. He will make sure that he does not get defeated by one, no matter what. If he is defeated by one, he thinks he will have failed Aquanis and so he will get very mad, leave the land for a while, and possibly kill himself, much to Aquanis's displeasure.
Stormy Weather - Since Akua is weaker against the Lightning element, Akua hates Thunder and Lightning. He hates Lightning for obvious reasons but he hates Thunder because it signals the coming of Lightning. Akua is scared of Lightning and so fears it coming on. IF the weather is stormy, Akua will usually hide indoors so as not to attract it to him, which could happen with his Water powers.
General Appearance
Height:
5ft 7
Weight:
45kg
Hair:
Cyan | Two strands hanging down, uppermost areas little untidy but rather neat.
Eyes:
Pink
Skin Tone:
Light
Appearance:
Akua Pura is a 5ft 7, 45kg Water God Slayer that has pale skin and pink eyes. He is rather skinny which makes his body lean and agile, like water, capable of flowing from one obstacle to the next. His eyes can sometimes put people off because of the look of them, but it is who Akua is. It is all thanks to Aquanis. Akua has cyan coloured hair, kept up so it does not go past his shoulder, and only a few strands actually make it to his shoulders. On his right side, his hair has braids keeping it from falling but there is no need of them on his left side. Under his left eye are some piercings that Aquanis bestowed upon him, symbols of Akua's faith and so he gets very angry if someone messes with them.
His clothing is rather average, a white, striped shirt with a black waistcoat over it. On top of the waistcoat, Akua wears a black overcoat which is orange on the inside, with buttons on the outside to fasten it if the weather is abnormally cold. Upon Akua's neck is a choker, another symbol that his soul belongs to Aquanis, his mother and Goddess.
On his lower body, Akua wears a pair of black trouser with a loose belt around them. The belt is left hanging around Akua's back, reaching down towards his knees but it stops around his but area. His shoes are boots that have the flaps folded down to reveal the inside being blue and white checked. The shoes begin at his knees and work their way down, through a few fasteners, to rest at his toes. All of his lower leg is covered in the blackness of the shoe.
Goddess
Name:
Aquanis
Age:
506 [looks around 20]
Gender:
Female
Appearance
Spoiler:
Spoiler:
Aquanis, the Goddess of Water, has two distinct looks, depending on her mood. She will usually be found in her more human form. In this form she is 5ft 9, two inches taller than Akua, with pale skin and long flowing blue hair that goes down to her waist. Upon her body are numerous tribal looking tattoos that no one understand but her, and maybe some other Gods and Goddesses. Her beauty is unsurpassed in the mortal world and has been known to captivate even the hardiest of men.
Her clothing in this form are a blue bikini with the bra top having jewels around it, showing that she is divine compared to mortals. This is not all she wears. Upon her head rests the "Crown of the Ocean" upon which are seven sapphires, one for every sea in the world. She also wears a cloak , decorated with Icicles and waves, showing her relationship to the God(dess) of Ice.
Aquanis may look very kind and loving when she is happy but, if someone makes her mad, they had better run. When Aquanis is angered, her form changes once more to that of a sea dragon. The sea dragon has a body full on bright, seaweed green scales running along her back as well as spines travelling up her head and replacing her arms. Instead of two legs, she has one tail fin which helps her swim in the tidal waves she can creates just by splashing said tail fin.
Personality
Aquanis's personality differs depending on what form she is in, which in turn depends on her mood. If she is in her human like form, she is generally kind and loving, but can also be rather stubborn. If she has her mind set on something, it is usually difficult to sway her. She is also very sensitive to insults, even if they are jokes, and can also be very childish when the need arises, whether she is trying to control the other Gods and Goddesses or for some other reason. She is also very manipulative, using every move to her own advantage.
When Aquanis enter her dragon form, it means someone has wronged, or even slightly upset her. She becomes evil in this form, creating great tidal waves to destroy whoever wronged her. The other Gods, except for the Lightning God(dess) of course, are afraid of Aquanis when she becomes the dragon. The tidal waves she causes are usually what the mortals call "great calamities" that have the potential to wipe out great nations, and even greater mages.
Guild
Guild:
Raven Tail
Tattoo:
Left Shoulder
Rank:
D Rank
Magic
Primary Magic:
Water God Slayer
Secondary Magic:
N/A
Caster or Holder:
Caster | Lost
Description:
God Slayer Magic is similar to Dragon Slayer Magic, but more powerful. God Slayer Magic has been shown to be completely superior to Dragon Slayer Magic in both power and destructive ability. Furthermore, a Dragon Slayer is only able to eat God Slayer elements after nullifying all of his/her own Magic, while the God Slayer can eat Dragon Slayer's elements with ease. This makes them great enemies if there elements are the same.
Water God Slayer Magic is a very unpredictable force, and can be used in a number of ways. Being the highest level of Water Magic, the user can easily slice an opponent in half with a slice of water, provided it is in the right place and the opponent is already weakened.
Being able to control natural water is but one of the abilities a Water God Layer can have in his/her arsenal. The user can shape it into many different weapons, both for offence and defence. If a God Slayer wishes, they can change the density of the Water they control, with a higher ranking Water God Slayer being able to make their water as hard as steel.
Water God Slayer are unable to consume the water that they themselves create, but it can be very harmful for a Dragon Slayer if they try to consume a God Slayer's water before first depleting themselves of all their own power. High level Water God Slayers have been known to be able to consume the moisture in the air around them to revitalize themselves but the concentration needed to do such a thing is great, so great that even Aquanis, the Goddess of Water, tries to find water and only consumes the moisture if in great need of it.
Strengths:
Water God Slayer magic can be very versatile, offering many different ways to control the water to achieve both offensive and defensive roles. It is stronger than Dragon Slayers of the water element and so can usually defeat them if they fight but not always.
Weaknesses:
Being water, it is still very weak against Lightning magic of any kind and so can very badly injure the user if struck by a Lightning attack. Also, Fire attacks of the same rank, provided they are God Slayer Fire, cancel out Water God Slayer attacks. Fire attacks of one rank higher can cancel out a Water God Slayer spell, and creates steam all around the battlefield which hides you from view as well as your opponent.
Extra
History:
200 Years Ago : The Sickly Child
Akua was born 200 years ago but, as a baby, he was very sickly. His village, renowned for their worship of Aquanis, the Water Goddess. Akua's mother and father were shamed to be with their son because he was afraid of the water. Classing him a heretic, everyone stayed away from him and so he made no friends. He was an outcast, only allowed in the village because of his heritage since his mother and father's ancestors had created this village in Aquanis's name.
A Way to Deal With Him : Sacrifice
When Akua reached the age of sixteen, his village could not stand it any more. He could fend for himself but his parents refused to let him roam. Not for his benefit, but because he knew too much about the village to be let outside alone. So they settled on one thing: they were to sacrifice Akua at Aquanis's alter. Since he was a sickly child, they hoped that the waters of Aquanis would heal his ailment. What happened that day, they would never forget.
They led Akua, who was nameless at this point in his life, up to the alter. He had no idea what they were about to do to him but, when he saw the knives around him and was strapped in to stop him struggling, he understood. He did not struggle for their was no way he could break free. His mother held the knife and brought it down upon Akua's cold body. Akua closed his eyes and waited for his death to come.
Inches from his heart, the blade halted. Akua opened his eyes and saw the blade. He looked at his mother to see if he could detect the reason why Akua was still alive. She looked baffled at the knife, and the same expression was upon everyone else's faces too. Akua looked at the knife and he saw something upon it. A trickle of water. At that moment, a plume of water rose from the ground and then dispersed a moment later. Where the plume was, a woman now stood. Akua could not believe who she was but he knew. Aquanis had stopped the blade. She had kept Akua alive.
She walked over to Akua, the crowd amazed and baffled by her presence. She stopped at Akua's mother and took the blade off her. Akua's mother walked back to join the crowd of people, oblivious to what his Goddess was about to do. Aquanis tossed the blade into the sky and used water to destroy it. She then touched Akua's face and said two words, "Akua Pura". At that moment, Akua's body was covered in water. Instead of resisting as he would have usually done, he embraced the water. The villagers stood there, dumbstruck, as Akua was taken to the heavens with his mother, Aquanis, following behind him.
God In Training : Meeting the Others
In the heavens, Akai trained with the Goddess for 200 years to become a true Water God Slayer, the emissary of Aquanis's religion. Akua taught Akua how to speak, read, and fight using the water around him. During their time together, Akua learned of the other divinities and got to meet the God of Fire and Ice. He asked of the other God, the God of Lightning, but his mother told Akua to stay away from him. She never said why so the Water God Slayer had to go see him. Aquanis's personality had rubbed off on Akua so he now acted similar to her. He went to Thunder Mountain, where the God reigned.
Akua scaled Thunder Mountain and met with the Thunder God. When he discovered who Akua was, the God immediately took a disliking to him. He bragged about his own son, saying that Akua was just a weakling compared to the Lightning God Slayer. Akua got annoyed at someone, even a God, insulting both him and so insulted the God, calling him a weak spark, thinking that the insult would hurt. It did. It took the combined power of both Aquanis and the Fire God to quell the power of the Lightning God. Aquanis got very angry at Akua's meeting the God as it had almost destroyed the world. Akua hadn't fully realized the power of the Gods yet, but now he understood how powerful they were. From that say on, Akua has always hated people that use the element of Lightning.
Pass On The Word : Journey Back To The Human World
One day, Aquanis told Akua how long the boy had been with his mother. Akua understood that his family, as well as everyone he knew, was now dead. He did not mind, they had tried to kill him after all. Akua journeyed to the mortal realm with a mission: to spread the word of his Goddess, Aquanis. He accepted his mission and was transported to the human realm. There he now remains, spreading the word of his Goddess while still speaking to her. Akua now hold the power of a God Slayer in hi hands and so he uses said power to fight people, mainly Lightning mages, and defeat them.
Rp Sample:
Quote :


Kegawa Inuzuka and Burakku were training in the forest located in the land known as the Land of Waterfall which was close to the once great nation and village of Hoshigakure No Sato. Burakku was practising his speed while Kegawa was trying to upgrade his accuracy with his crossbow and trying to practise how quickly he could draw it in case he had only a second to pull it out and fire. If he didn't do it fast enough he would die in battles. He pulled it out but it got stuck and he died, at least, he would have died if he was in a fight but he was only training. He tried it again and managed to get it out but it took 2.3 seconds. He had to be faster than that. He had to be as fast as Burakku but he knew that was impossible.

He looked at Burakku and thought about fighting with him: close up ripping people to shreds. Kegawa would've loved to fight like that but his wasn't skilled in Taijutsu or close combat fighting. He was skilled with weapons but it was starting to show that in fact he wasn't that skilled. He had to pick another form of fighting and his close combat skills were as good as his weapon skills so in other words: his weapon skills were bad. He would do anything to learn the art of Taijutsu but for that he would need a strong ninja to teach him and to teach Burakku. He just hoped one would find one soon. If he did not find a master or mistress to teach him the art of Taijutsu then he would try to learn it on his own with Burakku's aid. The chances of that training being of any use was slim, however, which is why he wanted a human teacher. He had nothing against Burakku but, since the dog knew him very well, it may cloud his judgement on how good Kegawa was doing.

A few days after he had seen the damage caused to his home, Kegawa had decided it would be best to leave and Burakku had agreed. So they had packed the things they thought were most important, which was only two things: Kegawa and Burakku. They had nothing of value so they had left instantly. They had heard from members of Hoshi, back when it still stood, that it had maintained contact with the Land of Waterfalls and that they were companions. It seemed like the most logical choice at the time because, if they went to the big countries like Kirigakure or Tengakure and told people where they were from, it would only raise many questions about what had happened and Kegawa could not answer any of them for he had missed it. He had fought twice that day but they had been good fights. One was with the red haired girl, the paper user, and the other one who had just appeared and disappeared. Kegawa, Burakku, and the red haired female had all worked together to defeat the other two shinobi. That had been his first battle. The next one he had lost, to the child Jiro. The sixty-three year old child if memory served well and he had been telling the truth. He had won using the illusion art of Genjutsu by trapping Kegawa in a Genjutsu. Kegawa hated thinking about it which is why he wished to become stronger with his strength. Using illusions was a dirty way to win so Kegawa wanted to prove he could be strong using his own strength, gained from unchanging determination and effort. This was how he would win his battles from now on.

The weather was calm this day like Mother Nature had forgotten all about the destruction that had occurred earlier that year to Kegawa's village, his home, and the pain and deaths of so many strong shinobi and innocent normal civilians. The fact that he had missed the destruction of his own village angered him so much and so when he looked at his crossbow and grenades once more, he saw their incompetence. He saw their weakness compared to the likes of Burakku and so he threw them hard on the ground and before the toxic gases of the poison grenades came out, Kegawa used Dragon Fire jutsu to burn them and the gases exploded and were lost to the air. Kegawa smiled at the irony. The grenades had been slow, not him. The weapons were bad. Not him. He was strong. He had Burakku. And he and Burakku would from now on fight together. But first he needed to get stronger with Taijutsu and so he fought with Burakku.

Kegawa had been rash and had ran at Burakku with a kunai in his hands, this was a bad move. Burakku side stepped out of the way and then he jumped forward and bit into the flesh of Kegawa's left leg. Kegawa bit his tongue so as not to cry out and broke free of his partner's embrace by jumping into the air and spinning around. Burakku had to let go but he landed perfectly. Kegawa admired Burakku's speed but, since he was battling Burakku, he also hated him for it. Kegawa then threw three kunai at Burakku, one in the middle and one at either side to prevent him from side stepping. He did not plan on Burakku jumping into the air above them and then rushing Kegawa. He rammed his side into Kegawa's stomach and Kegawa fell back, winded and trying to catch his breath. He raised his hand in defeat and Burakku walked over to him, pride in his eyes at winning the fight, but also sadness at the pain he had caused his friend and partner.

It had been quite a short battle but Kegawa had gained much from it about his strengths and weaknesses. Kegawa hadn't really battled that well so he had no chance against a beast of close up fighting. He had many scratches and bruises but he had learned something from his fight with his dog. Burakku was stronger than Kegawa and Kegawa would need to catch up with Burakku's ever growing power. Kegawa would learn to fight like Burakku, with Burakku. He would embrace the the clans ability: their bond with their canine brother or sister. Kegawa saw that now and was he happy that he had Burakku to train and to train with.

Word Count: 1,081/10,000


Face Claim:
Alvaro Garay - Wand of Fortune