Persona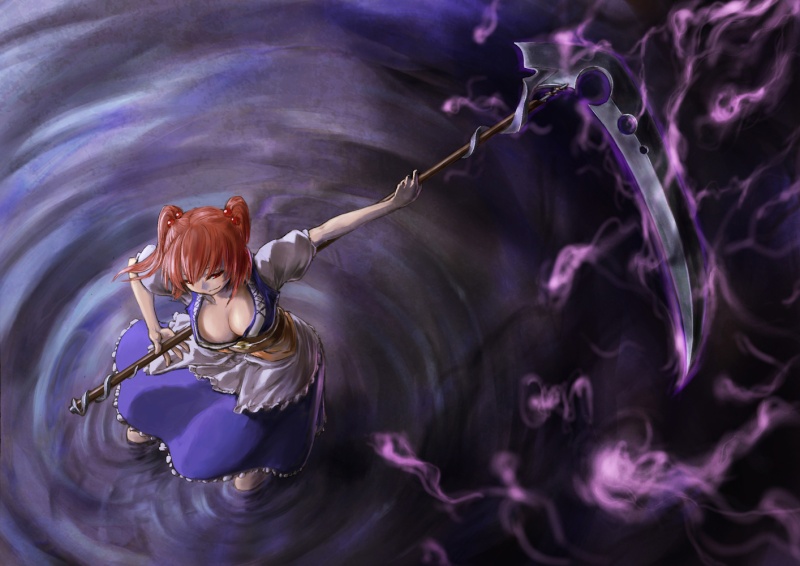 Name:
Lilinette Desmont
Alias:
Lily, Dark Seducer
Gender:
Female
Age:
Sixteen
Birthdate:
30 October
Sexuality:
Lesbian
Special Characteristics:
Lilinette has a spider tatoo on the back of her neck
Personality:
Lilinette is a very rash and suspicious person and she is especially suspicious to men. She has quick temper and is the sort of person that usually attacks fist and ask questions later. She is a bit moody and prefers to keep things to herself. But Lilinette's personality changes when she is around people she know and/or trust. She becomes cheerful and very energetic and is always optimistic about battles and gossip. She is also very sarcastic and very independent. When she has nothing to eat, Lilinette becomes very sulky and rude but this is because she has a eating disorder. Lilinette is also very flirt with women and loves to seduce them, either to mess with them or tease them. She is also sort of perverted.
Likes:
Lilinette loves the dark because of the mysteries that the darkness holds and waiting to be found. She loves the full moon because she believes that the a miracle will happen when it rises. She loves to eat pastries and candy because it reminds her of her childhood. Lilinette also loves to gossip because its the best way to get information and meet new people. And above all, Lilinette loves women because she is a lesbian.
Dislikes:
Lilinette hates hot weather because it messes with her hair. She does not like men at all because of her hate for them. She doesnt like father figures because of her father abused her when she was young. She has a strong dislike for rules because she finds most of them unfair.
Motivations:
Lilinette wants to be a powerful mage so she fufill her promise to her mother. Her mother wanted Lilinette to become something greater that her and Lilinette promised her just that. Lilinette also wants to bring honor to her family because of her family being hated by others.
Fears:
Lilinette has fears father figures because of her abusive father. She has an odd fear of coconuts because she finds the hairy stuff on it unnatural. She is also afraid of failure because she believes someone will be hurt if she doesnt succeed.
General Appearance
Height:
5 ft 9 in
Weight:
140 lbs
Hair:
She has short, red hair that reaches her shoulders and covers much of her fore head. Her is also almost straight.
Eyes:
Lilinette has bright green eyes but they turn blood red when she uses her magic.
Skin Tone:
She has a very light skin tone and is slightly pale.
Appearance:
Lilinette has a round face and is sorta short for her age. Her eye's are slightly open but can fully open when she is suprised or scared of something. Lilinette also is into clothes and has outfits for almost any situation but im gonna describe three of her outfits.
When she is going to a party or a festival, Lilinette wears a blue and white dress with a red bow tied to her waist. She wears black high heels and the dress also has long sleeves. When she is on a stealth mission, she wears a black, long-sleeved shirt with a high collar and a hood, black pants and black slippers. When she is fighting she wears a golden armor with two swords strapped to her back. But there is a similarity between all of her outfits except for stealth: they all show cleavage.
Guild
Guild:
Fairy Tail
Tattoo:
On her right breast.
Rank:
D-rank
Magic
Primary Magic:
Shadow Manipulation
Secondary Magic:
N/A
Caster or Holder:
Caster
Description:
Lilinette is able to manipulate and control shadows into any shape she wants and can use it to almost any advantage. When she manipulates shadows, the things that were created from the shadow will still be linked to it. She can use her shadow and the shadows her for stealth purpose like cloaking her presence. When it comes to fighting, she can use shadows to fight close and long range. When close range, she makes her shadows into weapons. When, long range her shadows take the shape of birds of prey.
Strengths:
She is able to control nearly all shadows. She can use shadows to hide herself and to phase through solid objects. She can also sink into a shadow and rise from another shadow. She can use her shadows to eavesdrop people.
Weaknesses:
She can't manipulate and control the shadows of her opponents if she is not familiar with them. If there is absolutely darkness, she cannot use her magic. If it is so bright that a shadow can't be created, she cannot use her magic. She cannot use her shadows underwater.
Extra
History:
Lilinette was born into a very rich and disliked family. Her father, once a very great mage, turned into something else after the many years of danger and action. He became violent, psychotic, and very sadistic. He abused his wife, Leyha, who said nothing about the violence and even abused Lilinette when she was young. One day, Lilinette's father went over the top in a psychotic rage and killed all of his servants. Knowing exactly what he done, he ran away and is now wanted. After Lilinette's father left, the Desmont family became poor to the point they could afford little food. One day, when Leyha was brushing Lilinette's red hair she said, "Lily, I want you to promise me that one day you'll will be something greater than me." Lilinette agreed. When Lilinette turned sixteen, her mother presented her with a blue dress, armor and dark stealth clothing plus a book on shadow magic. Lilinette accepted the gifts and vowed to her mother that she will bring honor to the Desmont family. She left her home to learn all she can from the book and to join a great guild so she can fulfill her goals.
Lilinette was on her way to Magnolia town to join the guild called Fairy Tail. She only spent a week on the road when a group of bandits confronted her. The men told her that they would help her get there and she accepted. But as soon as she got into their magic propelled carriage, they took all the money she had and tried to have their way with her but she escaped. From then, she has never trusted men and will be suspicious of them for a long time. Without money, Lilinette couldn't buy any food and that was bad for her because she had an eating disorder that demanded that she should eat something right away. After days without food, Lilinette passed out and woke up days later at a campsite of a couple. The couple found her passed out on the side of the road and decided to take her back to camp. The woman, Jane, gave Lilinette a big helping of steak and cake. Lilinette was grateful and thanked Jane but didn't talk or even look at Jane's husband, Filis. Lilinette asked Jane how far they were from magnolia town and she said it was two weeks away.
With enough food to last her, Lilinette thanked Jane and headed out. She still trained so she can understand how to use the magic in the book. After a few days, she was finally able to shift her shadow. She was proud about it but wanted to test her shadow manipulation on someone but there was no one around for miles. She was almost to Magnolia when she bumped into an seventeen year old guy by the name of James Howlett and his magic chess set. James offered to help Lilinette with her training and but she rudely declined his offer. She kept going until she finally reached Magnolia town.
Rp Sample:
Lilinette was freezing. She was at Mt. Hakobe on a request. A little girl and her family spotted something they thought was a giant gorilla like creature but Lilinette knew it was probably a Vulcan. She was worried about how she was going to defeat the beast but right now she was even more worried about if she was going to freeze to death or not. She wearing a white tank top, white pants, and white/grey snow boots. The only thing she had to warm her up was a white fur trench coat and a fur hat. The only reason Lilinette was wearing so much white is because she was using it as camouflage since she was surrounded by snow and ice. Suddenly, she heard a crack. It sounded like it came from her right, so Lilinette headed in that direction. She stopped when she saw a huge foot print that wasn't covered by the snow yet. "Come out, come out wherever you are, ya stupid monkey." Lilinette said out loud. Then she heard a thud behind her. She turned to see the huge, gorilla like beast behind her. The Vulcan charged and she easily sidestepped it. The Vulcan continued to strike at Lilinette but she sidestepped all of its blows. The beast roared out its frustration. "What's wrong?" Lilinette said mockingly, "Are you mad because you can't catch me?" The beast roared and made one last charge. Lilinette smiled. Just as the Vulcan was about to crush her, and spike rose out of Lilinette's shadow and imbedded itself in the creature's chest. The spike sank back into Lilinette's shadow. The Vulcan stumbled backward and then fell on its back, dead. Lilinette turned her back on the dead beast and walked away. "That Vulcan was obviously a guy. A lady Vulcan would've been smarter with how she attacked." Lilinette said to herself.
Face Claim:
Komachi Onozuka