Character Template
Persona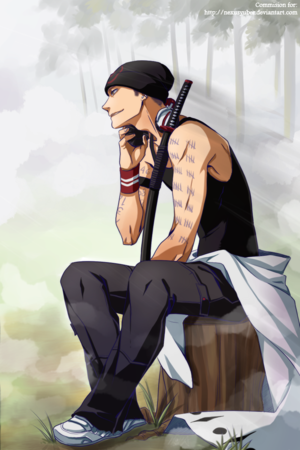 Name:
Jaycalyn Del-lee
Alias:
JD, and Crow
Gender:
Male
Age:
18
Birthdate:
02/03
Sexuality:
Straight
Special Characteristics:
-Around his neck is a pair of oversized white and red headphones that attach by wire to a music player secured to his right arm.
-Both of his arms are covered in tattoos. The left arm has horizontal tallies on the outside of his shoulder going down towards his elbow. The left arm has horizontal tallies on the outside of his shoulder going down towards his elbow. Each tally represents a time he had to take life for one reason or another. Currently there are seven (7) lines of ten (10) tallies each, showing a total number of seventy (70) times he had to kill.
-His right arm carries the birthdays of his mother, his grandmother and his two sisters along with his own birthday. On the lower part of his neck right above the collar bone on his left side he has the name of his art
E.O.N.E
-Last but not least JD has quite the little singing ability, he gets compliments on it when he goes around singing the lyrics to his favorite song.
Personality:
Jaycalyn Del-lee is often seen smiling and grinning, and letting his mind work wonders. He enjoys milk with strawberries, a weird combo but it fits with his weird persona. JD is quite reckless when it comes to other powerhouses, that are considered to be more of a threat than him and it shows how competitive he can be once given a good drive. He loves fighting and dreams of being the strongest by fighting of all time. JD has a natural aptitude for battle and street smarts, with pretty good knowledge over magic as well as martial arts. He tends to be mouthy and disrespectful and has a penchant for making enemies and rivalries. His defiance to backing down is a big part of him, he does things out of his core conviction. He is not afraid of flipping someone off for challenging that, or flipping someone off for any reason for that matter. Sometimes JD talks in a sarcastic tone, and in general he is a pretty sarcastic and witty guy but only does it out of humor and/or annoyance.
Jay is a honorable person, and respects the dead a great deal. Every time he has to take life, he will honor his opponent by closing their eyes and saying a small little prayer for them. He is not completely reluctant on taking life and it will do it, if necessary. He can be rather blunt with things, and likes to tell people straight up about how he feels. To him there is no reason to hide certain feelings and emotions and rather get it out from the start. JD is rather loyal and at times compassionate to others. If someone has rarely got on his friends list, they will have his loyalty but they have to earn it. JD has no desire to fight to protect anyone and only fights so he can be strong so he says, although it shows that he cares deeply for his mother and two sisters.
JD can be very laid back at times, and likes to go with the flow when he's not pumped for a fight or anything. He likes to speak in rhymes and in song, and is mostly seen with his headphones on jamming to any kind of music. When he is like this he is very relaxing and carefree and sometimes upbeat.
Likes:
Spoiler:
Dislikes:
Spoiler:
Motivations:
Simply being the Stronger- JD is pretty straightforward when it comes to this. He only wants to get better and stronger that's the only motivation he needs and the only one he has. He doesn't have a sob story on how he should get stronger for his family and friends. JD just wants to be strong for him.
The safe keeping of his family- The only reason JD is where he is now, is because he joined Mugen. IF he joined them then his family would be left unharmed even there whole village would be left untouched. That alone would keep JD going for the seven years he put into Mugen. As he got jewels he had them sent to his mother, sisters, and grandmother by secretive means. Everything he has done, even being taken into slavery was for his families safety.
Fears:
JD fears one thing more then anything else the lack of music in the world, music has been a big part of his life and it will never die to him. But he does fear that it will one day just disappear although highly unlikely this is JD's biggest fear.
He also fears Gouken would go back on his word, and have his family hurt and killed. Even worse being taken in. He put seven years of his life to Gouken so this wouldn't happen. And often says he fights only for himself but deep down in truth, he fights for his true family. And hopes they never have to come close to harm. Aside from music, this fear is hidden and never shows it. So thats why he says the lost of music is his biggest one when it really is this.
General Appearance
Height:
6"1
Weight:
145
Hair:
Brown and kept short
Eyes:
light brown
Skin Tone:
Light
Appearance:
JD stands at a very modest 6'1" and weighs about 145 pounds - all of it is toned muscle. This slender form is often taken as a sign of weakness by those who don't know his capabilities, but his friends and comrades know that a surprising quickness and strength hides within his frame. His brown hair is cut in a style called a "buzz-cut" and that small amount of hair is barely visible under a black skull-cap with a red bulls-eye on the front. His light brown eyes are almost the same color as his tan skin, which makes them somewhat disarming should he begin to stare at someone. In both ears are a couple of piercings that Kaen has designed himself, but the skull-cap covers all but the bottom few. The charms that show when his hat is on are mostly ornate silver rings that dangle from his lobes and lower ear.
He usually wraps a hoodie or shirt around his waist. He wears a black, sleeveless shirt that seems almost skin-tight, revealing the finely toned muscles beneath. Both of his arms are covered in tattoos which were described earlier. Along with that are black cargo pants and white sneakers.
Guild
Guild:
Raven Tail
Tattoo:
Left Shoulder
Rank:
D
Magic
Primary Magic:
E.O.N.E - Enlightenment of Natural Energy
Secondary Magic:
N/A
Caster or Holder:
Caster
Description:
It is proven that one's inner ki is a purer form of magical energy, it being raw magical power. The method of E.O.N.E uses one's inner ki along with the energy that derives from nature itself to create powerful magic techniques. But because of it's style users aren't really looked at as mages but rather martial artists.
The style had long gotten rid of the traditional movements and forms and has instead been taught so that each successor could incorporate it into their own fighting styles as a way to advance the art. Essentially, E.O.N.E uses the "quality, not quantity" approach, as the art relies on having a very refined and pure magical energy, even if not much in amount, instead of enormous quantity of unrefined Ki, the breathing method is the key to purifying the magic to be used, similar to how only pure uranium can be used to create an atomic explosion. The focal point of breathing is Yin of inhaling (negative charge) and Yang of exhaling (positive charge). To be simpler taking in natural energy and letting it out along with your's along with it. As such creating a perfect balance of to drastically empower abilities. It is because of this that EONE is called the magic art of "Perfect Balance."
Strengths:
EONE is based on close frontal combat with only limited ranged options. But because of this EONE has developed many techniques and methods that make close combat very lethal against them. Using simple spells to empower speed and strength to quite fearsome levels. And as the user advances in the art, using spells that not only damage but can cause devastating effects such as disrupting the flow of attacks and stunning. Also creating powerful defenses along with the offense. In JD's opinion the biggest strength EONE has is its ability to be original, creative and adapt.
Weaknesses:
EONE is a formless style, but it does require a strong body to utilize effectively. One has to be able to give and take blows, to know how to properly use EONE. Sp physicality is a must when it comes to this magic style, if not then it is useless. Along with outside body the inside has to be strong as well.
The biggest factor to EONE is the breathing technique, if a simple breathing pattern is wrong and JD's inner pure Ki is scrambled in some way the spell he is using can not be used and will blow up right in front of his face. Although it seems simple, the natural energy being taken it, has to be perfectly synchronized with the user's own power. They both have to be perfectly aligned, if not EONE can be fatal to it's own user. Such as causing severe internal damage. It takes months of the proper breathing technique to sustain this weakness. The user's body will also slowly start to turn to stone.
Extra
History:
Part 1
Spoiler:
Part 2
Spoiler:
Rp Sample:
Spoiler:
Face Claim:
N/A just a pic i found on the web. Haha!