Character Template
Persona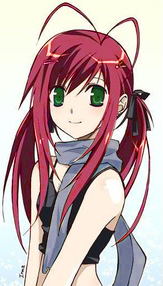 Name:
Leah7
Alias:
Seven
Gender:
Female
Age:
22
Birthdate:
29/04
Sexuality:
Bisexual
Special Characteristics:
A tattoo of the number seven is on the right side of Leah's neck in black.
Personality:
Leah is still discovering who she is and what her purpose is. She finds that life itself is interesting and has a very difficult time discerning certain jokes and slang phrases. She struggles every day to learn general social things, such as why people shake hands or wave in greeting. She is very indecisive, somewhat timid at first, and appears to be shy. However, if she gets to know you, she turns out to be quite different-defiant, even. She almost transforms into a fiery, confident social butterfly that loves to chatter. She's slow to trust someone, but she's hardly judgmental. She doesn't like to 'title' those she does not know, nor does she like to assume much about one's first impressions. Additionally, she is mostly affected by music--sad music can make her sad, passionate music can place her into a passionate mood, and so on.
Likes:
Leah loves music. It's her life and energy. If she doesn't have an instrument nearby to listen to, she's singing or humming. She doesn't know why, really, she just...does. It has seemed natural to her ever since she woke up.
She also enjoys writing. She doesn't write poetry or anything like that. Mostly, it is just act of writing itself that calms her. She likes to write out her emotions, at times, just to make herself feel better. She often did book keeping for a friend in her past.
Lastly, Leah really likes candy. She'll do just about anything for it. If you bribe her with candy, she's your new best friend, although somewhat timidly if she barely knows you. Candy can make Leah turn sweet, herself.
Dislikes:
Leah dislikes those that belittle or loathe themselves. She finds low self-esteem to be degrading and pointless--a silly thing that no one should ever experience or place themselves through.
Also, she really does not like behaviors that can be considered rude, condescending, or disrespectful. In the course of her past, she has learned the most of manners and tries to use them, always, as a sign of her respect towards others and respect towards herself.
Finally, Leah dislikes butterflies. She finds them to be too deceivingly cute, far too lovely and graceful in their movement, and simply annoying when they flitter about nearby. Only a delicate, gorgeous creature would have dark, previous lives--or so she would think.
Motivations:
Leah is motivated to determine why she was sleeping and to regain the memories of her life before that long sleep--or at least to find some essence of who she was before. The mystery of her true identity is something that she cannot ignore in a single day.
She is also motivated by candy! If she's promised candy at the end, she'll probably do just about anything for you. It hinders her quite a bit, for she doesn't care about coin as much as she should, considering she must support herself and all.
And of course, to discover her true potential. What being wouldn't want to know what they were capable of at the end of so much training? SHe hopes to be someone that makes a difference--and in a good way.
Fears:
Leah fears a few things--lightning, thunder, fire...but, what she mostly fears is not liking who she was before. Not liking who she used to be and finding that she was some horrible being that degraded or treated others wrongly. She is afraid of lightning and thunder because of the sound and look of them. They seem constantly threatening and she does not understand why nature can be so angry sometimes. She also fears fire because she almost been burned on a few occasions--and she knows it hurts. If such a natural thing can be so dangerous and ravenous, why give it the opportunity to feed on everything?
(Lighting -- It's scary looking and makes nature seem violent and angry.
Fire -- She has been burned before and knows how it hurts. She finds it to be another chaotic, ravenous part of nature that has no means of true control.
Thunder -- It sounds threatening and makes nature seem violent and angry.)
General Appearance
Height:
5'4
Weight:
137lbs
Hair:
Long, red straight hair that is generally up in a ponytail.
Eyes:
Green
Skin Tone:
Light
Appearance:
Leah is generally seen in darker colors--blacks, greens, and browns. They are generally skirts with thin pants underneath with simple shirts without design. None of her clothing ever has any decoration, and she is generally seen with sandals or other flimsy shoes. Additionally, she sticks to scarves, regardless of the weather, so as to hide her numbered tattoo. Her general clothing is more often brown than not. She carries herself in a more confident manner, despite her initial shy and timid attitude towards strangers.
Guild
Guild:
Lamia Scale
Tattoo:
Left forearm in black.
Rank:
D
Magic
Primary Magic:
Night Magic User
Secondary Magic:
None
Caster or Holder:
Caster
Description:
Leah has the ability to be strongest in the dark. Though she holds no power over darkness or its shadows, she thrives in it with particular spells and skills. She can be quite stealthy, at times, but generally does not like to use the skill set involved with such sneaking.
Strengths:
Leah is exceptionally more powerful at night. She finds both magical strength and additional confidence in the darkness or in the pale moonlight. Additionally, Dark and Shadow spells aren't very affective against her, when they are affect spells, rather than attack spells.
Weaknesses:
She is weaker in sunlight, though not entirely worthless. She has an extreme weakness to fire, light, and electrical magics, as they tend to render her powers weak. A powerful spell from any of the three schools could completely diminish her spells into nothing.
Extra
History:
Leah woke in a natural shelter, feeling as though she had been in a deep sleep for a very long time. She didn't recognize her surroundings, nor remember why she was there. In fact, all of her memories were gone, and her bland, brown cloth-clothing left no evidence of who she was. At first, she thought there was nothing left behind from her previous life at all, but she soon discovered, upon investigation of her surroundings, a small book underneath the mat that she had laid upon. It was a brown, tightly bound book that looked old and worn. Upon opening the pages, she found tattered edges and ink smeared words that were written in a mediocre and easy-to-read handwriting.
Upon reading the text after trying her hardest to survive in the wild (and miserably failing), she discovered that there wasn't just one of people like her, but seven. There was some sort of being that was trying to do some vague sort of experiments on magi--some sort of way to increase their capabilities? Most of the details were over her head, but she clung to them, anyways, desperately hoping for some what to understand and remember.
The book titled them all by their first name (or what she thinks is their first name) and their number. She was Leah7...she thinks. Due to the tattoo found on her neck, she can only assume that this title belongs to her. Thus, she decides to keep the book and take it with her always, so as to find sort of semblance of who she was before.
At this point, she could only determine her "name" and that she is a mage of some sort. She didn't know what she was capable of or who she was and if she had any family. Over the years, she lived in a peaceful, small town, helping the local doctor with minor first aid. Though the part of her mysterious past nagged at the back of her mind, she gained many friends in her new home that welcomed, loved, and respected her. She became comfortable with not knowing her abilities or identity. Instead, she just gained new ones.
Unfortunately, the "Ignorance Is Bliss" phrase didn't settle so happily in her thoughts when forced to face a part of her past that she didn't expect to be confronted with--especially not one that she couldn't even remember. Her small town was under attack and she was just as any other panicked town resident--hiding and scared, as well as defenseless.
The bandits promised to simply take what they wanted and then leave, so the town did nothing, waiting anxiously for their leave. Leah hid in the back of the infirmary, under the table with her herbs and poultices. It was then that one of the bandits saw her--and recognized her. He mocked her, laughed as he saw her ducked under the small table on the dirty floor.
He challenged her with words, demanding her to stand and fight, as she normally would, to call out her magic and be a more respectful fighter as she used to be. He was amused at her pathetic change, mocking her uselessness and idle stance as her loved ones are robbed and degraded. She could only respond with a confused silence, but the memory of those words did not leave with the bandits. They reverberated in her dreams, begging her to find the person that she once was.
As a bandit knew her--did that mean she, too, was once a bandit? Did she degrade and harm those around her? Steal from them? What protector was she supposed to have and where was this protector now? All that could follow were more questions without answers and confusion.
After thinking on it for several days (and it was pretty much all that she could think about), she decided to find her way to a Guild. If she were a mage, after all, then the best people to be around to find help would be magi--right? She's quite unsure about what to do or even how to ask for help, but she's going to try.
And thus, Leah is now on her way to the nearest Guild, to speak with them about how to learn of her magic and perhaps to hopefully find someone that might have some clues towards finding out who she was before she had fallen asleep.
Rp Sample:
It isn't long before the man makes his way up the side of the mountain, a determined expression marking his face as his eyes search for the familiar cave that he had scouted a mere four days ago.
This particular prey, a breed of which cannot hear as well as its cousin-kin, has allowed for his men to post up a distance away with the weapons he had specially made for this occasion. He's here on a mission to save the small town of Illaville, population fifty-three.
For the past year, this large town has decreased in size as it has been terrorized by a dragon--the worst of the breeds. And so, the village called for "The Dragon," a legendary man that is rumored to have been raised by such mythical creatures.
And so The Dragon finds the cave entrance and begins to walk over, slowly and patiently. He makes no rush--the creature will smell him before long. His men are positioned where the wind will not blow their scents its way, so they alone will be safe. This is to his liking.
The Dragon was indeed raised by a dragon, a Silver one, at that. They are kind shape-changers, fond of the human race and helpful in secret and rarely revealing themselves. Most dragons are neutral and uninvolved with the life of man--but there are some breeds, such as this one, that are pure evil.
This particular dragon, a green dragon, is the worst of any dragon. They are far more dangerous and much harder to kill. Their scales are more hard and durable than another other color, thus limiting where they can be pierced by a sword of any kind. Perhaps a magical weapon could pierce such things, but he wouldn't know. Magical weapons, like himself, are a mere legend--such findings would be like that of a miracle.
He steps toward the cave entrance, unsheathing his longsword with surprising speed considering his full-plate armor. His long, black hair blows in the wind to his side as he yells out a loud, challenging roar.
The dragon's head is there--suddenly, as if from nowhere, its eyes yellow with malice and it opens its mouth as a cone of acid shoots out towards him. The man dives and rolls to the left, just barely dodging the acid as it lands upon the rock and begins to melt the ground.
He moves towards the giant head before him, hearing the dragon's breathing as it surrounds the air around him, conquering any other sounds that he would normally hear. He inches towards the head as the teeth snap at him. He lunges his sword forwards as it tries to take a bite from his flesh, mildly piercing the flesh of the creature's gums before ducking from the massively, sharp fangs.
The fierce mouth opens as a loud roar comes forth, physically pushing the man back with the wild winds of the dragon's breath and threatening war call. It is clearly annoyed as it steps out of the cave, full body in view. It's wings spread out, as if to take flight--the moment the man has been waiting for.
He raises up the sword and tilts it from side to side, the sunlight reflecting beautifully from the clean blade. The dragon has not yet bled, but it shall. It shall. In that moment, the giant wooden arrows from twenty different balistas soar through the air, piercing the dragon's wings and pinning it backwards into the mountain's side.
The dragon roars its fury as his men move forward with their spears and javelins, yelling war cries of their own and falling behind their leader, who's sword is ready to do what it must, despite the sad loss of the creature's life.
The tail comes around, throwing thirty-something men into the air, screaming and wondering if their fall should end in their death. The spiked tail has several bodies now hanging from them, bleeding out upon the ground underneath.
The feet of the dragon begins to step on anyone close enough, as more acid comes from its mouth in defense. The man's heart becomes heavy as he suffers from each loss, his eyes becoming watery, though no tears fall.
He rushes into the fray, his sword aiming for the one place that has no scales or talons--the dragon's belly. He jumps into a catapult that is already prepared for him and he signals for the release hastily. He must end this before there is more death. He is thrust towards the dragon's stomach as more acid falls downward--directly above him.
He screams as he aims his sword forward, lunging at the creature with all of his might as the acid strikes true, sizzling through his armor as his own blade strikes its target just as accurately. The man and the dragon scream in agony together, the man falling with his blade as gravity pulls downwards and slices the dragon before the man lands upon the ground.
Men hastily tug at his body, pulling him from the dragon's body and ripping off the acid-covered armor before it melts his skin much farther. The man finally stands again, the burning scars all over his body as he finds new clothing to replace what he previously had. He then pulls out his second set of armor--not nearly as impressive or as useful as his other--and dons it with pride as the men begin to throw up their hands in victory.
His eyes shine with sadness as he grins and nods with approval to the small remnants of his men. They are few, now, but alive and victorious--to save the women and children of Illaville. The men are already cutting away at the creature--taking scales and bones and other such things for their sales.
He allows this, as he always has, so long as they bring him the left tooth--as he always takes from his slays. And they bring it to him now, after he finishes changing, and he fights the mixed feelings of sorrow and pride.
A day later, the people of Illavile jump with joy, cry with happiness, and throw up their hands as "The Dragon" returns, an additional tooth around his neck and a dragon's head behind on a large man-made trolley, for the village to keep and do with what they will.
It isn't long before they chant the name that is now viewed to them as some sort of hero. The dark-skinned man with grey, sorrowful eyes, who feels no more than a lucky man, looks down upon the village as the sky above him promises rain. His head is lowered down to the village entrance as the cry can still be heard in the distance:
"Dragon! Dragon! Dragon! Dragon!"
Face Claim:
None